DXP
Liferay: what is it and why should the utilities sector be interested?
event 22 dicembre 2022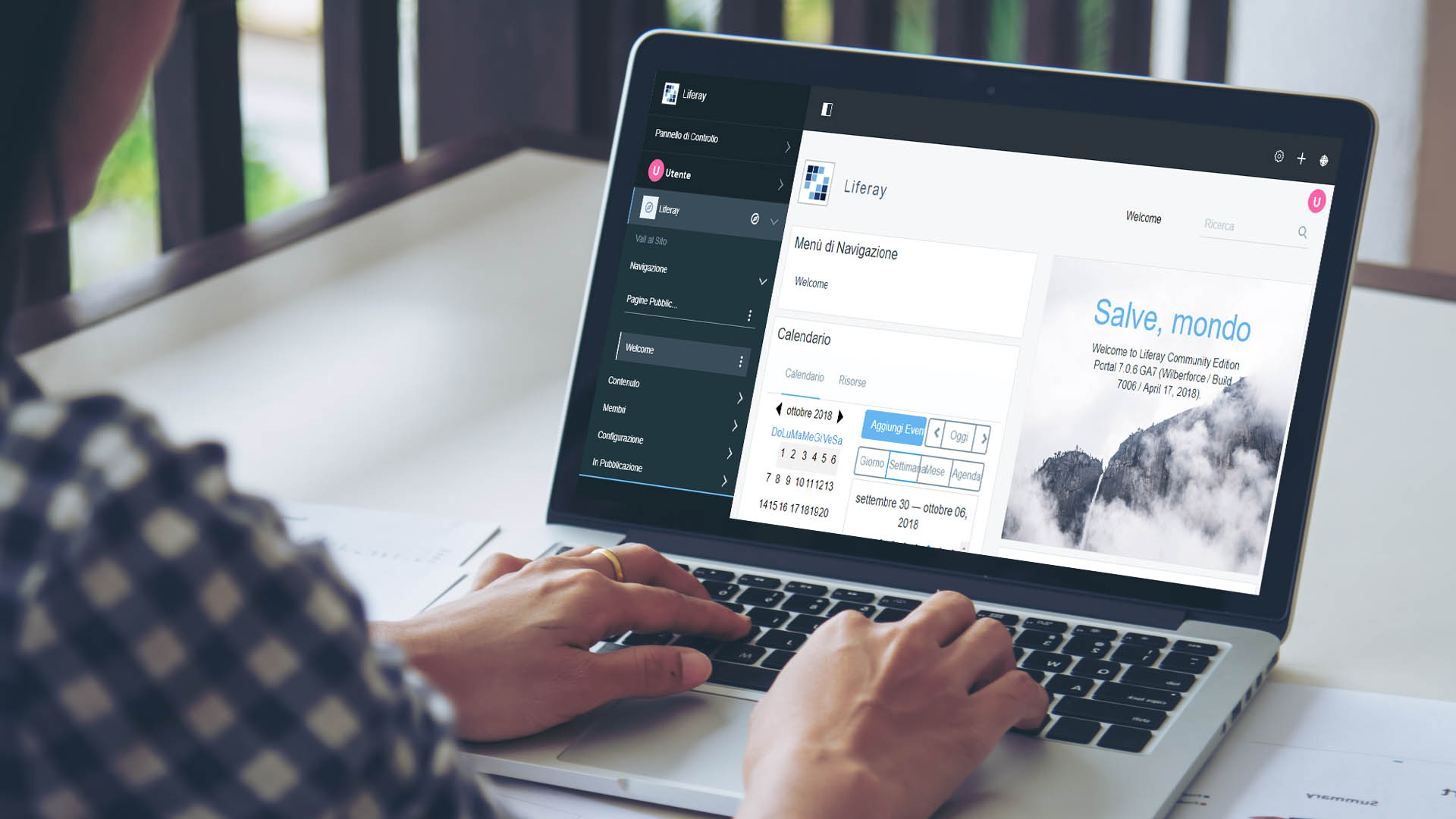 With the evolution of the IT world, Digital Transformation has become mandatory for all companies. Unfortunately, this evolution is not easy, especially for those companies still tied to outdated systems or those companies that, despite being technologically advanced, do not have a clear understanding of the true customer needs. It is also challenging for companies with great innovative ideas but lacking the technical knowledge to bring their projects to life.
If we add to this scenario the fact that each company has its specific requirements that inevitably require customized solutions, "digital evolution" becomes something truly challenging to implement. Technological innovation is crucial for any company, including those operating in the utilities sector, which is even awarded a prize for technological innovation by Top Utility in Italy every year.
Since it is not possible to escape this evolution, the focus must necessarily shift to finding an optimal, flexible, and customizable solution. The Liferay platform fully meets all these requirements and represents the best solution for creating personalized web portals.
In this article, I will explain what Liferay is, but above all, we will see together how Liferay can be the optimal solution for the utilities sector.
What is Liferay: a robust, flexible, and reliable platform
Developed in Java and distributed under an open-source model, Liferay is an optimized platform for creating and managing web portals. It optimally utilizes component management (portlets) that can be used to form the body of web pages composing the portals.
Here are some of the numerous advantages offered by this platform:
Robustness: Liferay is a robust platform that allows the rapid development of web portals accessible from both desktop and mobile devices.
Flexibility and extensibility: It enables the development of new applications and customizations based on specific needs.
Security: It provides high levels of application and infrastructure security in compliance with applicable security and privacy regulations.
Suite of components: It offers all the standard functionalities required on a website.
Editorial features: It provides advanced document and content management capabilities.
Integrations: It is accompanied by a set of plugins for integration with other systems.
Multilingual support: It supports localization in all international languages, with more than 30 languages already supported.
Furthermore, its reliability and stability have been widely demonstrated in mission-critical applications developed in various sectors.
Liferay is very user-friendly. Its modern design, focused on simplicity, facilitates its use even for users without an IT background. The drag-and-drop feature makes it easy to build pages by adding or rearranging the available widgets within the portal.
The solution that fits every need
Considering its modularity and extensibility, Liferay can be used in various ways. Here are some ideas widely used in most business solutions:
HORIZONTAL PORTAL
Liferay is a flexible platform for creating portals that can adapt to your needs, offering various applications and services:
Auditing and Optimization: Extract statistics on key performance metrics (hits/page, average response time, maximum response time, etc.) and track and manage user activities on the platform using integrated auditing.
Availability and Scalability: Liferay offers high availability and scalability as a portal and collaboration site, even in environments with millions of active users.
User Management: Create and manage users, organizations, user groups, roles, and password policies. View all live user sessions.
Modularity: Its highly modular architecture makes it flexible and extensible.
Multi-Tenancy: Organize users into business categories (e.g., by department, geographic area, or office).
MOBILE APPLICATIONS
Liferay is particularly effective for developing web applications compatible with mobile users. Some of the notable features include:
Page Fragments - Page fragments are reusable components that can be used to quickly create new pages. Fragments use an inline editor to modify text and images and can incorporate other Liferay applications to implement advanced functionality.
Content Management - Liferay can automate content approval processes, enable scheduled publishing and removal of content, and use permissions to control user actions on the content itself.
Asset Publisher - The Asset Publisher application can be configured to dynamically display any part of the content, such as images, blogs, documents, and web content, through a set of publishing rules or manual selection.
Mobile Support - Liferay supports mobile content by allowing previewing on various devices, mobile themes, mobile device recognition, mobile SDK, native support for mobile apps, and push notifications.
FORMS, WORKFLOW, AND BUSINESS AUTOMATION
With Liferay, you can streamline business processes and automate workflows:
Forms and Form Rules - You can create forms for various needs, from automating business processes to replacing complex paper-based operations. You can validate entered data, apply conditional rules, populate fields, authenticate users, and more.
Form Field Library - Liferay provides an extensive library of form fields so that users can easily create the forms they need.
Workflow and User-Driven Approval - In addition to organization-level workflows, users can create workflows based on their specific needs (e.g., administrators can require approval for new document uploads).
The functionalities summarized here are just some of what the platform offers, allowing the creation of various types of portals. In the utilities sector, this can provide a particular advantage. Let's see how!
What can Liferay offer to the utilities sector?
In the specific case of utility providers, Liferay can deliver different types of solutions. Here are descriptions of the types of portals that can be built, referring to real-life cases.
EDITORIAL PORTAL (CMS)
The E-Business department of Schneider Electric's Construction sector was looking for a versatile platform capable of meeting various needs, from creating a central point for software downloads to partner extranets and more. To achieve this, they needed an agile and flexible platform that could bring together a range of services in an easy-to-manage manner. That's why they chose Liferay. By leveraging Liferay's AUI framework to create a responsive theme, they utilized Liferay's workflow capabilities to upload document and software packages and implemented a "document search" portlet tailored to end-users. The Schneider E-Business staff were trained to manage and update the portal daily. Following this innovation, Schneider received excellent reviews from its customers, confirming a dynamic and enjoyable user experience throughout the platform.
CORPORATE INTRANET
Osaka Gas, a leading natural gas provider in Japan, faced the challenge of managing a substantial amount of data through its corporate intranet. After careful evaluation, the best solution was to adopt Liferay for developing the intranet network. Despite having over 25,000 corporate users, Liferay's flexible layout solutions and adherence to open standards like JSR-168 allowed the company to update the back-end system with minimal disruptions. It can now quickly scale its corporate intranet to provide direct access to information for all subsidiary companies.
SELF-SERVICE PORTAL
In Australia, SUEZ has over 2,600 employees in the water and waste management sector. The company operates 850 collection vehicles and 100 facilities to provide reliable services to over 56,000 customers and more than 3.7 million residents every week. SUEZ chose Liferay for its SUEZ Connect portal to offer its recycling and waste management customers better service throughout Australia. Providing real-time billing and payment options, self-service scheduling, requests for new services, and reports on metrics like environmental impact allow SUEZ to meet customer expectations.
Digital Transformation: a "must" for companies in the utilities sector
As demonstrated in the aforementioned case studies, technological innovation is often a necessary step for companies operating in the utilities sector to grow and improve customer experience. However, it is important to carefully consider this step, opting for a platform that is flexible, scalable, and allows easy customization of services. DIY approaches should be avoided, and it is recommended to always rely on an experienced partner who can configure and customize the digital platform according to the company's needs, while providing support and training in platform management.
Liferay DXP is a flexible Digital Experience platform that can adapt to the needs of any industry. If you want to delve deeper into the topic and discover how Italian companies are using Liferay to digitize their processes, download our free eBook (in Italian) dedicated to 4 successful Italian cases with Liferay DXP.